What Do I Give My Soul (Cycle) Sister?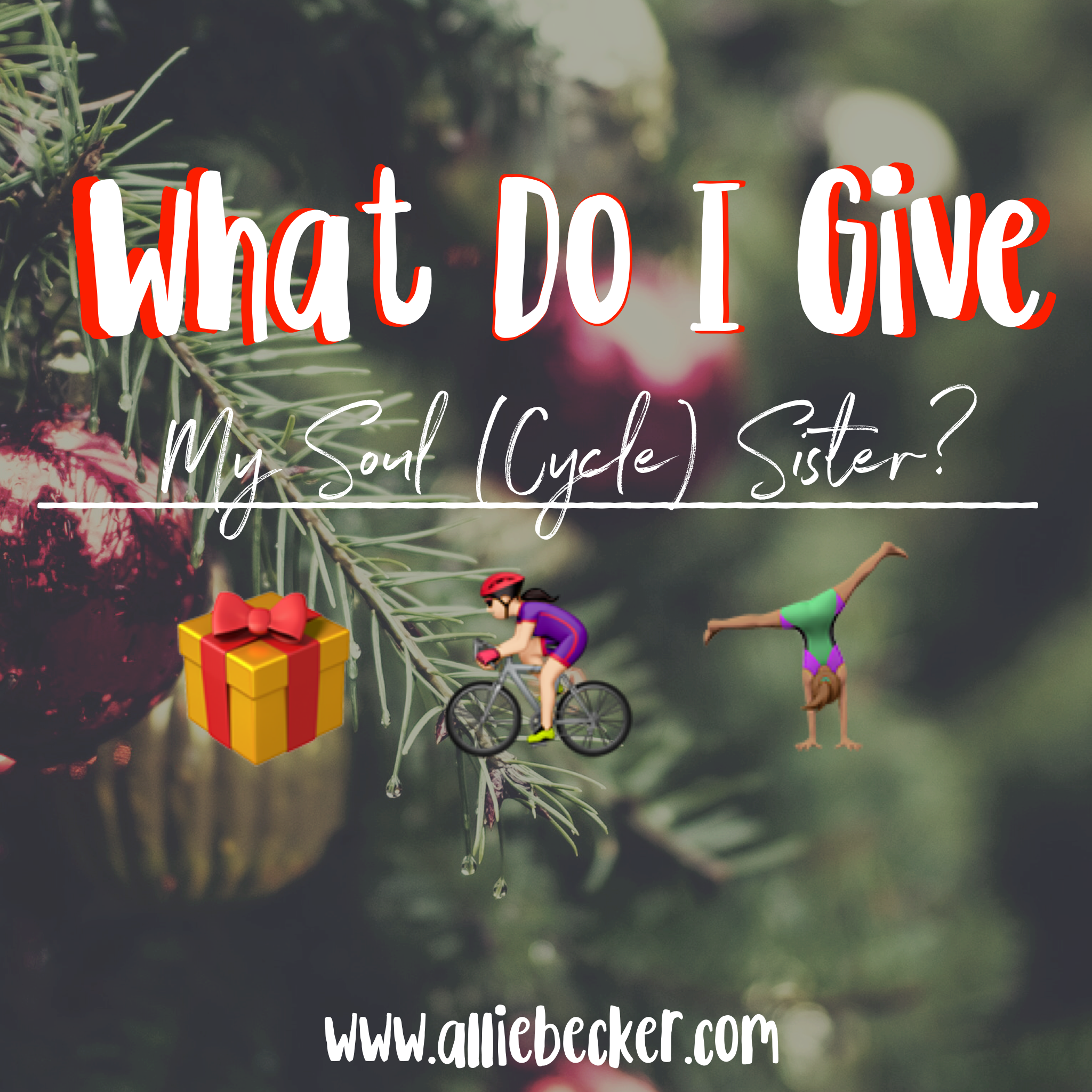 She's always tapping it back with you, whether you are turning it up to country or millennium hip-hop. She knows how important it is to move her body, and she does it with joy. If she's not clipped in, she's probably tossing a tire in Cross Fit or doing chatoranga in vinyasa or pounding the pavement on an uphill run.
My gift guide vibe: The intention here is to curate a couple of cool-ass items for all the weird and wonderful people in your life. Trust, I can be all of these people at some point in my day, so we do not have to attend to any of these labels of our friends with any attachment—they are transient, but helpful, in narrowing down what to gift all the beautiful beings in your life. Enjoy, and as always, let me know in the comments below if you have any other ideas!
1. Soul Cycle Rides (price varies): This is a no-brainer, right? Treat her to her next ride or two, and she'll be forever grateful.
2. Soul Cycle Candle ($38): If she loves the smell of the studio, then she'll love this gift. It's a little pricier, which means she probably hasn't treated herself to this goodie yet. Also, it smells like grapefruit, and we know that citrus smells give us the major #happyfeels.
3. Travel Foam Roller ($22.95): She's probably got a foam roller already, but does she have a TRAVEL foam roller? Didn't think so. Get her this gorgeous one designed by Lauren Roxburgh, and her back and hamstrings will thank you after a long flight, no questions about that. Lauren also has an equally badass larger roller, found here.
4. Mark Sisson Primal Kitchen Cookbook ($16.71): Your biking bud will need to refuel post-workouts, and she'll love the quick and easy paleo-friendly recipes in Mark Sisson's cookbook. I recently received this cookbook as a gift, and although I'm not committed to becoming 100% paleo, I'm adopting more paleo-like practices into my diet, and this book is a great resource for anyone interested in trying out a new style of eating.
5. Wonder Woman Blender Bottle ($12.99) : Help her show off her Wonder Woman-status with a blender bottle. Bonus: She can bring her protein shake to stash in her locker for post-ride nourishment, and feel like a total badass shaking it back up.
6. Cirque du Chic Couture Yoga Mat ($52): I'm going to go out on a limb and say you could find a less costly yoga mat many places. BUT, will it be as gorgeous as this one? Probably not. Your Soul Cycle sister is going to obsess over this design, and more likely than not, she's already familiar with the designer, Cassey Ho. Treat her to something she wouldn't buy herself, but most certainly uses every day!
7. Alo Yoga Cozy Up Jacket ($168): Even in California, those early AM workout classes can get a little chilly. Treat your workout warrior to the softest, most gorgeous coverup for post-sweat sesh green juice. Plus, it's so on-trend in its plushness, that she'll probably just wear it all the time.